Alexandra the Great
This middle-grade, non-fiction book is about the epic filly, Rachel Alexandra, who in 2009 became the only three-year-old filly to ever win Horse of the Year. Although this book is about a horse, it is also, more fundamentally, about how a strong female, supported by a group of people who believe in her, can excel despite heavy odds against her.
Aronson's telling of Rachel Alexandra's story proves that the best athletes can be role models, and sometimes those athletes need not be human to inspire us.
Whether a horse enthusiast or new to the sport, there's much to learn from Rachel's story.
This vivid, swiftly moving story showcases Rachel Alexandra's heart, grace, perseverance, and sheer athletic power that earned her the love and admiration of everyone around her. It also suggests how female athletes can shine when given the opportunity to compete on a level playing field.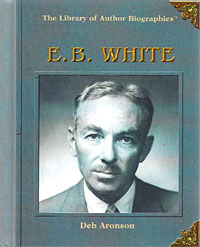 E.B. White
E.B. White was one of my favorite authors when I was a kid, so when I was asked to write a biography about him I was thrilled to do it. I ended up admiring him even more as the project advanced.
This book is part of a series published by Rosen Books for seventh graders, but I like to think this is a good read for anyone curious about the author of such classics as Charlotte's Web and Stuart Little.
Sign Up For My Newsletter
Thank you for signing up for my newsletter! Every month I'll send a new post sharing my thoughts on writing — especially children's non-fiction —  and creativity, posting writing prompts, discussing my favorite middle grade authors and more.